Harness Museum & Historic Track receive $6,000 from Monti-Goshen USHWA
Wednesday, November 11, 2020 – by Chris Tully for the Monticello-Goshen Chapter of USHWA
Continuing a tradition that has endured for more than half a century, the Monticello-Goshen Chapter of the United States Harness Writers Association made their annual donations to the Harness Racing Museum & Hall of Fame and to the neighboring Goshen Historic Track.
Track president Steve Jones met with chapter president Chris Tully at the recently concluded Standardbred Horse Sale.
Jones stated, "We truly appreciate the consistent and generous support of our local harness racing writers.  They help us to continue to operate during these difficult and unprecedented times.  We lost considerable revenue with the postponement of our regular Grand Circuit meet in July, so these funds could not have come at a more crucial time."
Harness Museum president Max Hempt echoed those sentiments. The third generation horseman noted,
"The Harness Racing Museum is fortunate to have such a dedicated group of writers that have consistently raised thousands of dollars annually on our behalf.  Absent much of our primary fund-raising efforts this year, we are grateful that Monticello-Goshen Chapter had sufficient prudent reserve to continue their enduring doctrine of benevolence."
Forced to postpone the annual Hall of Fame induction ceremony until 2021, and coupled with New York's current pandemic restrictions, the Museum has remained closed through much of 2020.
In addition, due to current social distancing requirements, the Monticello-Goshen Chapter will be unable to hold its 62nd annual awards banquet this year.
The practice of raising money and donating funds to Historic Track and the Hall of Fame began in the mid-1970s with Monticello Raceway publicity icon John Manzi, and has continued ever since.
Fortunately, due to the generosity of the chapter's past sponsors and advertisers, the writers were still able to give $3,000 each to the Harness Museum and to Goshen Historic Track, two separate and distinct entities which share the same hallowed ground and a united mission to preserve, protect and promote Harness Racing.
Rewatch the 

NY Sire Stakes & Landmark Series Live From Goshen, NY
Loyal Fox Hanover Sets Track Record In Landmark Stakes At Goshen
September 6, 2020, by Ken Weingartner, USTA Media Relations Manager, Hambletonian Society Inc.
Goshen, NY — Loyal Fox Hanover made his first win of the season a memorable one, winning Sunday's $16,150 Landmark Stakes 3-year-old open trot by 4-1/2 lengths over Askmelater Hanover in a track-record 1:57.3 at Historic Track.  Sloanie finished third.
The previous track record for a 3-year-old trotting gelding was 1:58 set by Keenan in 2011.
Askmelater Hanover led through the first half of the race before Loyal Fox Hanover took a slim lead at three-quarters. The two trotters battled around the final turn before Loyal Fox Hanover pulled away nearing the wire.
"I wasn't sure if he was going to get around the half-mile (track) but he liked it," trainer Chuck Sylvester said. "He got around there very good. I'd say that was one of his best performances of the year."
Loyal Fox Hanover had four wins and four second-place finishes in 10 starts last year, earning $76,118. He finished second in a division of the John Simpson Memorial and concluded last season with a victory in a division of the Liberty Bell. This year, though, he was winless in nine starts heading into the Landmark.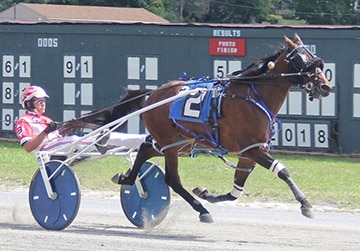 "We were pretty high on him all winter and he's been pretty disappointing to us," Sylvester said. "He could trot as much last year as he's been trotting this year. For some reason, he didn't pick up any speed. He's just been steady. Last year, he battled every time. This year, he hasn't tried very hard. Maybe this is what he needed."
Ray Schnittker drove Loyal Fox Hanover for Sylvester. Loyal Fox Hanover, a son of Andover Hall out of Lady Luck Hanover, has won five of 20 career races, earning $98,833. The gelding is owned by Steve Jones, Mary Kinsey Arnold, Paul Bordogna, and Sylvester. Hanover Shoe Farms bred the winner.
Other Landmark Stakes winners were Levine in the $16,550 3-year-old open pace, Rodeo Beach in the $7,900 3-year-old filly pace, Credit Con in the $12,000 2-year-old open trot, and Mullinax in the $10,500 2-year-old open pace.
Jason Bartlett drove Levine and Mullinax, two of his seven wins on the day. He also won five New York Sire Stakes County Fair finals.
"I knew some of the horses I had were pretty good and I had some good post positions too," Bartlett said. "But you can't expect you're going to win seven on the day, that everything is going to go perfect. I just was in good spots."
Levine won by 6-3/4 lengths over 2019 New York Sire Stakes champion Cigars And Port in 1:54. He took the lead following a first-turn skirmish with Stop Action and Cigars And Port and rebuffed a first-over challenge from Cigars And Port on the backstretch en route to victory. Always On The Hunt finished third.
"He has really good gate speed," Bartlett said. "He's very quick and he's very good in the turns. I knew when I got to the front as easy as I did that he would be tough to beat. He was very good. And Scott Zeron owns that horse, so I had a lot of pressure on me."
Levine is owned by driver Zeron, who was unable to attend Sunday's Historic Track races because of commitments at Harrah's Philadelphia, which was hosting the Pennsylvania Sire Stakes championships and consolations for 3-year-olds.
Levine, a gelded son of American Ideal-Sangaal bred by Ken Solomon, has won four of seven races this year and five of 16 lifetime, earning $55,955. He is the points leader in the New York Sire Stakes Excelsior "A" Series.
Mullinax won his Landmark Stakes by 5-3/4 lengths over Stop Staring in 1:57.4. He's A Snob finished third.
Fourth through the first half of the race, Mullinax charged forward from there and became the race's fourth and final leader.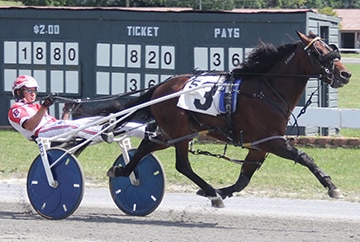 "He's been very good," Bartlett said. "I love that little horse. He got beat last week because he was very sick. I knew today that I just needed a clean trip. There was a lot of movement to the half and some of those horses were struggling in the turns. I attacked in the turn and cleared pretty easy. He won very easily."
Mullinax has won three of eight races and $27,152 for owner Bill Varney. He was bred by Mark Ford and Ed Mullinax, who passed away in 2018. Ford trains the colt.
"He's very versatile, quick, and has a great attitude," Bartlett said. "I've been racing him from the front and today he won from off the pace just as well. He's just a handy little horse and that's what you need on the New York Sire Stakes circuit."
Schnittker returned to the winner's circle for the Landmark for 3-year-old filly pacers after driving Rodeo Beach to victory in 1:55.4. Flirty Forty finished second and Hurrikanemyshannon was third.
Rodeo Beach led through the first quarter before yielding the top spot to Flirty Forty, who guided the field to the three-quarter point. Rodeo Beach moved to the outside coming off the final turn and paced to a 3-3/4 length triumph.
Schnittker owns Rodeo Beach with Arnold and Bordogna. He bred the filly, a daughter of Somebeachsomewhere out of Wild West Show, with Charles Iannazzo. She is a full sister to Dan Patch Award winner Huntsville as well as six-figure earners Cowboy Terrier, Stevensville, Wild Bill, and Branquinho.
Rodeo Beach has won two of 11 races this season and three of 19 lifetime, earning $31,086.
Credit Con held off a late charge from Seven Nation Army to capture the $12,000 Landmark Stakes 2-year-old open trot by three-quarters of a length in 2:00.4. Manuka finished third.
Cory Stratton drove Credit Con for trainer Todd Buter and breeder/owner Lee Sitto. The victory was the first for the gelding, a son of Credit Winner out of Jesse's Con, in six career starts. He has won $31,080.
Sunday, September 6, Goshen Historic Track hosted the New York County Fair finals. The eight races, which each sported a purse of $10,000, for 2- and 3-year-olds of both gaits and sex divisions, ended the County Fair season at "The Cradle of the Trotter."
Normally, the county fair races kick off July 4th weekend in Goshen, but due to the coronavirus pandemic, the races were held on the Labor Day weekend.
To qualify for the finals, the competitors needed at least five starts from the 14 County Fair tracks.
Due to state guidelines, the competitors didn't have the fans to cheer them on, but that didn't stop the races from being competitive. In fact, it came down to the final race to determine the NY County Fair's top driver.
Leon Bailey, with his win in the 3-year-old colt and gelding pace with Mr Dunnigans (American Ideal-Legacy), moved to the top of the driver standings over Claude Huckabone III.
Mr Dunnigans, who is owned by David Smith, James De Armond, David Towne and James Giannuzzi, remained perfect in six seasonal county fair starts.
Bailey also made a trip to the winner's circle with his own trainee, Miley Rose (So Surreal-Bellas Bliss), in the 2-year-old filly pace. After a hard-fought stretch duel, Bailey and Miley Rose, who is owned by Donn Lewandrowski and Gail Farrell, scored by three-quarters of a length over Jason Bartlett and Elegant Blue.
Bartlett ended up as the big winner of the day, taking five of the eight County Fair finals.
Bartlett also won on Sunday with Flexible Credit in the 2-year-old filly trot, who is trained by David Dewhurst and owned by Dewhurst and Philip Hale; Ready For Workout (Whataworkout-Oven Ready) for owner/trainer Earl Sauve in the 2-year-old trot for colts and geldings; Xenia's Chip (Heston Blue Chip-Xenia Hanover) in the 3-year-old filly pace for trainer Jim Graham and owner Keith Pinkowski; and Crazy For CJ (Crazed-Godiva Lindy) for trainer Claude Huckabone III, who was the top trainer on the NY County Fair circuit for 2020, and owner Chasing Dreams Stable. The win in the 3-year-old trot for colts and geldings was the seventh straight for Crazy For CJ.
Driver Mark Whitcroft won the 3-year-old filly trot with Notoutofthewoods (Prayer I Am-Edge Of The Woods)
New York County Fair Finals – Sunday September 6th.
Goshen Historic Track "Preserves the Tradition"

September 29, 2019. A little more than two years after a devastating fire, Goshen Historic Track added a new page to its vibrant history. The World's oldest active harness racing track and historic jewel of Orange County hosted a ribbon cutting ceremony to celebrate a newly constructed barn and horse stalls on the site of the old BOCES Barn that was partially destroyed by fire on August 23, 2017. It was so named because it was an extension of the Board of Cooperative Educational Services when it functioned as a training center focusing on equestrian care and farm management.
Since then, working closely with preservation architects and engineers from Goshen-based LAN Associates, the Historic Track and the Harness Racing Museum & Hall of Fame have endeavored to replace the lost structures with the goal of preserving much of their original character while providing the museum with safe housing for its valuable artifacts. Thanks to a generous donation from the Messenger and Fleming families, and a matching grant from New York State, the new barn was renamed the "Fleming Barn," in honor of Charles M. Fleming, a distinguished Standardbred trainer and driver at the famous track in the 1950s and 1960s.
Sunday's ribbon cutting ceremony heralded the preservation of a tradition. Goshen is known as the "Cradle of the Trotter" because it was in that town, circa the 1840s, that the first American Standardbred horses were foaled, trained and bred for the then uniquely American sport of harness racing. From the turnout crowd that included Steve Brecia, County Legislator and Mayor of Montgomery; John Vero, County Legislator; and Joseph Faraldo, Esq., President of the Standardbred Owners Association of New York, it was fully evident that the tradition will continue to be as exciting and colorful as ever. There are also plans for expanding the functionality of the Historic Track to accommodate a host of community-oriented services and events.
The Board of Directors for Goshen Historic Track and The Harness Racing Museum & Hall of Fame are grateful for the generous support from the Standardbred Owners Association of New York, Arden Homestead Stable, Hempt Farms, Cameo Hills Farm, United States Trotting Association, Ron & Diane Burke, Mr. & Mrs. Lawrence DeVan, Mickey & Sylvia Burke and the Bosler family. Their charitable donations went towards the completion of a blacksmith shop and horse stalls that retain the historic charm of the original structures while housing modern water, electrical, waste management and HVAC systems.
From the start, supporters of Goshen Historic Track said "It Takes A Village To Raise a Barn" but always knew that it would require a wider range of support to rise from the ashes. The Harness Racing Museum & Hall of Fame, as well as the Historic Track, are grateful that so many people from so many places rose to the occasion. Barbara Martinez, Executive Director of the Goshen Chamber of Commerce, deserves special thanks for promoting the vital project.
Of special mention, also present were George Casale, Board Member and General Counsel of Goshen Historic Track; Bill Murray, Track Board Member and Chairperson of Buildings and Grounds; and Janet Terhune, Harness Racing Museum & Hall of Fame Executive Director, who worked tirelessly on the project from its inception.
"Gentle Giants" Visit The Home of the Trotter
September 26, 2019. The clouds were grey and threatening at first, but they soon gave way to the magnificent Budweiser Clydesdales that paraded on the famous Goshen Historic Track later in the day. Thanks to Dana Distributors of Goshen, the Goshen Chamber of Commerce, the Orange County Tourism Board and the hard work of the Track's staffers, a record-breaking crowd had a chance to view the iconic team of horses with their red wagon, dalmatians and drivers. Everyone had a chance to pose with the beautiful giants at the Winners Circle where everyone was a winner just to be near them!
Goshen Grand Circuit a Huge Success!
By Ross Cohen
Coming off a rain-soaked Saturday card, Goshen Historic Track finished off its 2019 Season Sunday with nine power packed races and a Track Record performance in its Signature event the Mr. and Mrs. Elbridge T. Gerry Sr. Invitational Hall of Fame Trot.
The leading driver for the meet was the ever-popular local hero Jason Bartlett. Jason had 7 wins over the four day meet that he only drove three out of the four days and had only one steer on Friday. A fan favorite, Jason brings many friends that have never been to a harness race to Goshen Historic Track to enjoy the festivities and join him and his family in every picture.
Leading trainer for the 2019 Meet was a tie between two superstars. Julie Miller and local training king Ray Schnittker. Both had three wins for the meet. Julies three wins all came on Sunday while Rays three all came on Friday. Where Landmark Stakes Day might be renamed "Ray Schnittker Stakes Day".
Sunday's fans were treated to a guest announcer as Hall of Famer John Berry was guest announcer for the afternoons eighth race. Mr. Berry, who travelled from Florida for the Hall of Fame festivities, needed a little coercing to do it but once in the stand he controlled the crowd like he owned them and delivered one of his patented race calls.
The Signature event on Sunday was the Hall of Fame Trot. David Miller and the Nick Surick trained Zagster obliterated the Aged Gelding Track Record in an eye catching 1:56.4. The Gerry family was on hand with numerous friends and family to greet the winner. Mr. Gerry Jr. was delighted at the quality of the field of trotters that were assembled. "This is the best field I've seen here in years" a proud Gerry Jr. stated. "Let's do it again next year."
Sunday's beautiful weather and the fact that numerous Hall of Famers came out contributed to a Record setting day at the track. Linda Myers, a 20-year employee and the glue to smooth running of the facility stated, "that's the most tickets we've sold in my years and I've never seen the stands so packed." All in all, the four days of racing were a proud example of all the hard work and dedication all the Historic Track employees put in to make it as great as it was.
Matinee Season Concludes with Senior Moment
By Ross Cohen
Goshen Historic Tracks matinee races concluded Sunday with a dominant win by Tommy Manza driving Goose Mountain to victory in the open pace, but the highlight might have been the first lifetime driving win by Rogelio "Reggie" Dominguez.
Manza, 63, of Middletown, New York had not driven in a race according to the stats kept by the USTA since 2013. As the gate sprung tom sent Goose Mountain right to the front and set comfortable fractions of 31.2, 1:02.3, 1:32.1 and a final quarter sprint of 28.1 to win by 1 ½ lengths over Justice My Way and Brian Connor. Trained by Jim Healey and owned by Mr. Healey it was Goose Mountain's second Matinee and first victory. Joined in the winner's circle by family and friends, Manza had a smile from ear to ear.
As Mr. Manza represented the theme of the day, Senior Day, Rogelio Dominguez or Reggie as he is known to most, made it "Señor Day" when the native of Mexico steered his first ever win as a driver in only his second lifetime drive. Leaving from the rail with the Kirkorian Family owned Edge of Insanity, Reggie settled comfortably in the 2 hole behind Tom Merton and Celebrated Mr. K. Content to stay here till the top of the stretch the final time, Dominguez eased his horse out of the two hole and strolled away to a length and ¾ triumph. Entering the winners circle both driver and horse were greeted by family and friends including Reggie's wife Ali and his employer Ray Schnittker.
John McDermott, a Historic Track resident, drove two horses he trains to victory on Sunday as You Can't Habit dominated the first race with a six and a half length victory. John then came right back winning the second event with Hurrikanemyshannon, a nice looking two-year-old by Artspeak out of Cheyenne Trish in 2:02.3. McDermott was not done on the day as he turned over the lines on Hurrikane Kinglee to Brian Connor. Connor Sat last to the half then buzzed right by them all firing a 28.3 final quarter to seal the victory with the 3-year-old Art Major gelding.
There was a huge turnout for the races on both Matinee Sundays, but the best is yet to come as Grand Circuit Racing kicks off July 4th, with County Fair Races highlighted by plenty of local talent. July 5th is Landmark Stakes day, July 6th NYSS Excelsior Pace day and Billings Trot highlighted. The big day will be Sunday July 7th, Hall of Fame Day, featuring active Hall of Famers driving in a 1-mile dash. Some already committed drivers are David Miller, Brian Sears, Dick Stillings, Jimmy Takter, Wally Hennessey, Linda Toscano, Blair Burgess and Joe Holloway. Also, that day 3-year-old Trotters will be touring the half mile oval. As always Historic Track invites everyone to come down and enjoy the fanfare.
First Responders Day a  Huge Success

By Ross Cohen
Goshen, NY • 06/16/19 — The weather threatened but the storm held off as State Police Captain Jennifer Gottstine and trainer Carl Tirella guided their charge Meetyouatmidnight to victory in the inaugural First Responders Race at Goshen Historic Track Sunday (June 16).
Starting from the two position Jennifer and Carl fired right to the lead and never looked back, holding off a fast closing Northern Assassin A teamed with Sargent Station Commander Mike Beers and Mike Kimmelman. Holding on for third was EMT Joyce Foulkes and Chuck Connor Jr. steering Franny Love Dat.
Rounding out the field were Hatfield Hanover with Fire Police Christine Soto and Shane Darish, Acefortyfouramanda with Sargent Ryan Rich and Dustin Blumenfeld and Sir Bradford teamed with Fireman William J. Murray and Jake Huff.
Seven matinee races were held on this overcast day with the Chuck Connor Jr. trained and driven Chili Pepper, a 2-year-old filly by Heston Blue Chip out of Paper Cut, leading the way with the fastest mile of the day in 1:59.
Leaving from post three, Connor fired the filly to the front and led from start to finish, holding off the late challenge of American Chance and driver Ed Hart.
As part of a now Goshen tradition there was a change from the normal structure of racing in sulkies with the Racing Under Saddle girls holding their event. Akhenaton ridden by Hillary Hartnett led from start to finish to record the victory in 2:04.2.
Other winners on the card were The One The Only, a 4-year-old RC Royalty stallion in 2:05.2 with Harold Purdy; Bullville Terror, a 2-year-old Western Terror-Bullville Ana colt with Steve Crevani in 2:06; Mighty American N and Dustin Blumenfeld in 2:02.3; Hurrikane Kinglee with Brian Connor in 2:04.1; and Grand Theft with Ed Hart in 2:00.2.
Racing continues next week at the historic facility with Senior Day on Sunday (June 23).
Everybody Wins at Our 5th Annual Kentucky Derby Day Party
Written by Geri Schwarz and Amanda Tweed
Goshen, NY.  05.054.19. The crowd grew to "standing room only" for Goshen Historic Track's annual Kentucky Derby Day fundraiser on Saturday.  More than 200 people were drawn to the scene emulating Church Hill Downs, from the hat contest, to television sets tuned to the pre-race reporting and the Derby, the betting booth…. and the mint juleps.  Guests feasted on a buffet catered by Delancey's while listing to live music by Dave & Dusty's Band.
There were games for kids, as well as wagon rides around the track pulled by two outstanding draft mules, Romulus and Bev, owned and driven by Kay O'Hanlon and Ed Myruski.  The wagon ride was overwhelmingly popular with adults and children alike.
Topping 25 stunning hats and models, it was a daunting task for judges  Crystal Tweed, Barbara Martinez and Amanda Dana to choose three finalists.  Emcee Ken Tschan kept the crowd cheering while introducing each contestant as they strutted before the crowd.  First place finish, Yvonne Eaton;  2nd place finish, Sindi Price;  and third place finish Diane Eisgruber.
The  event was organized by Linda Myer, Manager, heart, soul, and driving force, along with many talented employees, and a group of devoted volunteers and sponsors. Linda, thrilled with the crowd, said "every year builds on the previous year.   The mule team was such a great success, and we look forward to seeing them again."
Overhearing several guests question whether harness racing continues at Historic Track, since it had been decades since their attendance, the Goshen Historic Track team wishes to remind everyone that racing for the 2019 season begins with matinee racing on June 16 and June 23, and grand circuit competition on July 4, 5, 6, and 7.  Post times 1:00 p.m.  If you haven't been to Goshen for "decades" or have never experienced the excitement, see our sport played by the most talented trainers, drivers and equines in the industry.  We've be at it since 1838.
Oh, and the point of this article, the Kentucky Derby?  Country House won, paid  $132.40….and the preceding and ensuing mayhem is already history.
Goshen Historic Track breaks ground
for new building
Tuesday, April 2, 2019 – by Chris Tully
Proving that it takes a village to raise a barn, nearly 200 local dignitaries, business people, politicians and horsemen stood on the hallowed ground of Goshen Historic Track to witness the groundbreaking of the new building project on Tuesday.
Known throughout the land as the World's Oldest Harness Track, the National Historic Landmark survived a devastating fire in August 2017 to emerge with plans to overcome adversity and erect a new structure in conjunction with the neighboring Harness Racing Museum & Hall of Fame.
"We are excited to enter into this joint venture with the Hall of Fame," noted track president Steve Jones, "and collaborate on a building project that bonds the future of both of our entities, while preserving our treasured past."
Museum president Larry DeVan agreed.  "We are thrilled to continue to support Harness Racing's legacy in the Cradle of the Trotter, and strive to build upon it's celebrated origins in Goshen that began in 1838."
The idea of pooling resources was recognized as a solution one of the Hall of Fame's biggest challenges: Where to store the enormous quantity of items and artifacts that continues to be donated to the Museum.  The intention is to utilize the soon-to-be-constructed historic replica "barn" that occupies land on the grounds of Goshen Historic Track.
Also on hand to speak to the importance of the project were Harry Porr, Deputy Orange County Executive; Doug Bloomfield, Town of Goshen Supervisor; Mike Nuzzolese and Kyle Roddy, current and former Mayors of the Village of Goshen; Ted Lewis, Goshen Building Inspector; and Barbara Martinez, Executive Director of the Goshen Chamber of Commerce.
Although each speaker brought their own unique perspective to the project, one consistent theme was prevalent: the significance of harness racing to Goshen and the assistance needed to realize this vital rebuilding endeavor.
Museum director Janet Terhune, who has helped spearhead the project noted, "The track is in the home stretch of its second century of operation.  We owe it to the sport of harness racing to ensure that this grand history is promoted and preserved, and in this case, revitalized."
For more information about the building project, including sponsorship and donation information, please Email: rebuild@goshenhistorictrack.com or go to: https://goshenhistorictrack.com/restoration/
JULY 4TH: Record weekend at Goshen Historic Track
GOSHEN — Ray Schnittker had a track record weekend with his horses at Goshen Historic Track.
The great trotting mare Check Me Out only has two foals of racing age, and both are track record holders at the track that their mom called home.
Check Me Out raced to fame and fortune in 2011 and 2012 for Ray Schnittker and her first two foals — Mooska Stride — 3,1:56h at Goshen Historic Track (GHT) on Sunday, July 1 and Check Out Trixie — 2,1:58.4h at Goshen on Friday, June 29 were both Track Record performances.
Through three days of racing at Goshen Historic Track, Cameo Hills Farm in Montgomery, which produced all three of these fillies, has bred the winners of six races at GHT — Check Out Trixie, Major Sugar Rush, Hickfromfrenchlick, Damion Diesel Hahn, Mooska Stride and Youcouldbethatgirl.
The first four are trained by Ray Schnittker while Mark Harder trains Mooska Stride and Dan Daley conditions Youcouldbethatgirl.
Oldford, Faraldo win Billings at Goshen. Tough Get Going and Joe Faraldo win a leg of the CKG Billings Trot at Goshen Historic Track
On the sweltering Saturday afternoon of June 30 in Trot-Town USA with the temperature hovering in the mid-90's two Billings divisions went to post over Goshen's Historic Track and when they were declared official Steve You're Never Too Oldford and Smokin' Joe Faraldo each emerged victorious in their respective divisions.
Oldford winning with Starsaboveallerage in 1:58 while Faraldo scored behind Tough Get Going in 2 flat. And although each contest had short fields action was intensified when each winner scored a tight nose decision.
In Oldford's contest he sent his trotter to the lead from the two-hole and they carved out fractions of :29.2; :59 and 1:28.2 with "Joltin' Joe" Pennacchio and Cheeky Little Minx shadowing the leader's every move.
However, when Starsaboveallerage rounded the final turn and headed for home he was quickly joined by Cheeky Little Minx and the two trotters raced for the wire head-to-head and nose to nose and when the photo was deciphered Oldford's trotter was a nose better that Pennacchio's.
"My horse went a game race and he hung tough when we were challenged by Joe's horse( Cheeky Little Miss) in the deep stretch. And we were so close at the wire I wasn't sure who won it," Oldford said and the added "I was happy to hear the announcer call my horse the winner."
Third place some 4-1/2 lengths behind the top two was Connie Keeper, driven by Scott "the driving doctor" Woogen.
Oldford Racing owns the winner who is trained by Allen Sisco.
In his division, Faraldo gunned Tough Get Going to the lead when the wings of the mobile gate folded but yielded command to Winwood Scout and driver David "Poppa" Glasser before the quarter which was clocked in :28.2.
"I really had no other choice but to grab leather and let Glasser take command or else he would have run me down," Faraldo said. "We got over to the half in :59 seconds and I was still comfortable when we passed we three quarters and I sat in until we rounded the final turn at which point I moved to challenge and we cleared Glasser and braced for a challenge from (Matt) Zuccarello (with Gianni)."
Like the previous Billings event, it was a two-horse charge to the wire and so close a photo was needed to declare a winner. Gianni was a nose back at the wire and Winwood Scout faded and finished third.
Faraldo co-owns the winner with trainer Richie Banca. And for "Joltin' Joe" it was his first winner on American soil this year after having had two victories in France earlier this season.
– John Manzi for Goshen Historic Track
June 10th Matinee "Baby" Races a Hit With Seniors!

Written and photographed by Geri Schwarz (06.10.18)

Two year old trotter, The Chutzpah Kid, raced to a 209.1 victory in his first ever race experience at Goshen Historic Track's matinee on June 10.  Trained and driven by Chuck Connor, Jr., the son of Conway Hall, is owned by Alan Schwartz, President of the Monticello Harness Horsemen's Association and a leading amateur driver, with over 600 driving wins to his credit.  Alan's wife, Alicia, remarked, "this is fun, so far." 
In other "baby" races (2 year olds),  Joseph Chindano, Sr., sent his two Heston Blue Chip colts to the gate, Send a Note and Hot Seat, in a competition that saw Send A Note, reined by Joseph Chindano, Sr., victorious.  In a wire to wire victory, Send A Note was challenged during the last quarter when Jordon Stratton pulled Rock America, but was unable to catch him.  In another two year old competition, Jordan Stratton reined pacer Hurrikane Norakane to a 2:03.1 victory following a 2:07.4 second place finish last week.  Joseph Chindano, Sr. marked a second victory with his Roll With Joe filly, Qing Qong Blue Chip driven by Michael Petrelli.   
And in the open competition, cheers and congratulations to Marianna Monaco who enjoyed her first driving win behind veteran 9 year old trotter, Baltimore As.
Cathy Gearwar of Benson, Vermont rode her 5 year old Armbro Hall to a 2:06.1 under saddle victory. Armbro Hall is trained by Peter Gearwar and owned by Cathy and Peter Gearwar.
Dubbed "Senior Day", there were gift bags, giveways, 50's music, and cheers for the babies who might one day make harness racing history.
Matinees continue on June 17.  Grand Circuit Racing on June 29 and 30, and July 1 and 2.  Post time at 1:00 P.M.
Fire Sweeps Through Historic Barns at Track
By now you are probably familiar with the details of the devastating barn fire at Goshen Historic Track last Wednesday evening (8.23.17). The fire started around 6:00 pm and spread ferociously. We are very grateful that there was no loss of life and that more than 30 horses were rescued from their burning stalls. For this we must thank the quick thinking and responses of good Samaritans, trainers, Track staff and firefighters.
The following day, work crews were able to salvage some mementos from the historic stables and blacksmith shop. "It's a little early to tell what our exact plans are," said Steve Jones, the Historic Track board president. "But we've been here since 1838 … We're going to pick ourselves up." More than anything, it is important to keep our national historic landmark a vital part of harness racing history. It is still the area's premier location for boarding, training and racing Standardbreds.

Now, more than ever, we need your support. We will be entering our 108th season of harness racing in 2018. Goshen Historic Track is the oldest active harness racing track in the world. Please help us keep the tradition of harness racing alive. A donation of any amount would be greatly appreciated. Thank You!
PLEASE HELP US REBUILD

With a donation of any amount. We need to rebuild.
Kaitlin Jones: Keeping Order and Smiles at Historic Track

We wrapped up our  2017 racing season Tuesday afternoon, July 4th, with a 10-race card. For those who attended the races any of the 4 days they had the privilege of seeing Kaitlin Jones lead the parade of horses each race with her trusty quarter horse Snoopy. It was the first time she had been a parade Marshall.
Kaitlin's ability to bring the horses on the track in order and her outstanding horse handling skills in case of trouble made the races run smooth as silk. If that wasn't enough, the biggest hit was Kaitlin and Snoopy interacting with all the visitors at the track. From kids in strollers to grandparents, everyone wanted to pet or take pictures with Snoopy and Kaitlin.
Racing and track officials were absolutely delighted with all Kaitlin did for the racing and the promotion of the track. Presiding judge Ozzie Cole felt "that girl looked like a seasoned pro out there. The fans loved her." Goshen is great racing and behind the scenes there's always people like Kaitlin Jones making it run smooth and making fans smile.
First Day of Racing Starts with a New Record
7/2/17 – Jason Bartlett also drove three year old pacing colt, Outkast Blue Chip to a 1:54.3 victory for owner Blue Chip Bloodstock Inc, trainer, G. Buzzy Sholty.
– By Geri Schwarz
Outkast Blue Chip
Impressive Debut for So Surreal's Offspring

The Landmark Stakes today, 7/3/17,  at Goshen Historic Track were highlighted by  three  wins on the program for trainer/driver Ray Schnittker , and an impressive showing by the first crop of pacing stallion, So Surreal.
The Landmark Stakes for 2 year old pacing colts went to Real Ravenbow , wire to wire in 1:57.4 , he is  a 2 year old So Surreal colt trained and owned by Janice Connor, Arden Homestead Stable and Crawford Farms Racing.
Damion Diesel Hahn, another colt by So Surreal was 2nd in the Landmark Stake, and Thrill of the Chase, yet another So Surreal was fourth.
– By John Manzi
Keystone Velocity Sets New Track Record!
Our second Matinee Race of the season was on a beautiful day. Among the winners was Keystone Velocity in the seventh race. Congratulations to driver Brandon Simpson and trainer Rene Allard for their historic win!
Our new cold salt water Equine Spa is open for business
Schedule a Spa session now!
The Goshen Equine Spa is available to all types of horses. Call 845-294-5333 to make an appointment.
We are proud to announce that a Cold Saltwater Hydrotherapy Spa is now a new feature at Goshen Historic Track.  The spa is used to treat and prevent a multitude of injuries. At 35°F / 2°C saltwater temperatures, the spa can address virtually all lower leg injuries.  The treatment temperature alone induces a massive rush of blood and enhanced circulation which otherwise would not be present. Drug-free, the spa therapy can be used to increase mobility and reduce swelling in the limbs before and after competitive events and training. It is ideal for injury prevention.
Goshen Historic Track | Established 1838 | A National Historic Landmark
44 Park Place | Goshen, New York, 10924 | P: 845.294.5333 | F: 845.294.3998
Email: info@goshenhistorictrack.com