Orange County Fire Police to Host Our 5th Annual
Car Show & Food Truck Festival

---

Sunday, May 22
10:00am – 3:00pm
Great Family Fun
Delicious food
Fabulous Desserts
Music by DJ Hot Rod

---
Restaurant Raffle Winners
Stagecoach Inn   Mr. Fanning & Family
Oak & Reed   Mary Jane Lippert
Grappa   P.J. Beall
Bull's Head Inn   Donna Drybred
Bottom's Up   Marlene Dillenbeck
Casa Mia   Gail Frey
Catherine's   Joe Vandenburg
Chateau Hathorn   Trudi Graham
Christopher's Bistro   Glenn Schwetje
Thank you so much to everyone who participated!  – Auxiliary of Goshen Historic Track

Copper Bottom   Joyce & Tom Vassiliou
Crystal Inn   G & K Beall
Delancey's   Liz Bodnar
DeStefano's Olde Erie   Ed Drybred
Graze   Joan Labanowski
Gus's Restaurant & Tavern    Debra McDonald
Hacienda, Goshen   Jon Buy
Kelley Jean's   John Wood
Landmark Inn   Eleanor Daly
Limoncello   Jerry Fielding
Mason's Marketplace.  Donna Benson
Mountain View   Agnes Cresce
Trattoria Viviano   E. Breazzano
Ward's Bridge Inn   Diane Leo
Wildfire Grill   Dina Tashman
Eddie Glick  receives the Amy  Bull Crist Distinguished Service Award
Monday, December 13, 2021  | Goshen, NY
by Chris Tully, Monticello-Goshen Chapter of USHWA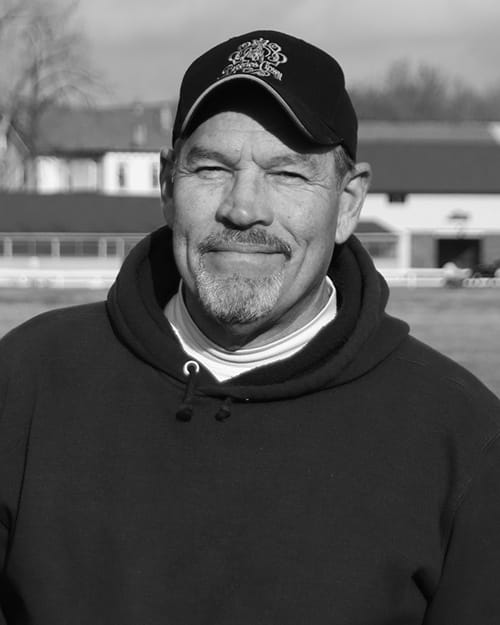 Eddie Glick is the Facility Supervisor at Goshen Historic Track. A lifelong area resident, Glick has been working at the 'Cradle of the Trotter' for seven years full time.
"I have been working the track itself for over twenty years," noted Glick. "I used to help out during the Grand Circuit and during snow storms part time."
But now Glick oversees all the operations at the racetrack and training facility. Capable of housing 108 racehorses, the training center is home to about 50 head during the winter months. When Glick is not working the harrow or adding water to the stone dust he ensures that the shaving bins are full and that the manure bins are neat and tidy. In addition to the daily maintenance of the facility, Glick has also played a key role in several large projects around the backstretch.
"We renovated the Arden Barn extension, completed the Fleming Barn and performed a complete remodel and renovation of the grandstand. The seating area received a complete water proof liner that now protects the entire lower level from the elements."
At 110 years old, the Goshen Historic Track grandstand is always in need of some maintenance, and Glick has also overseen the renovation of the interior lower level offices to protect from past water issues and age-related deterioration. In addition, the roof of the Grandstand as well as the infield Judges Stands, have been replaced in the last decade.
Of course, with many racetracks being built on the lowest, and often soggiest, sections of town, Goshen is no exception. "We have a constant battle with the elements to eradicate water from the track during the winter months. Many tracks were built on
wetlands, and this track is definitely in a soup bowl," Glick says with a chuckle. "The infield has a clay base so it does not shed water too well."
So what's next on the agenda? "We want to address the aging tote board in the infield. That needs some TLC, for sure," noted Glick. "And we are also improving the floors and some of the substructure in the race paddock. New concrete is being poured, with new posts and fresh lumber and paint applied as necessary. There is always something to fix. We must make the racing a great experience for everyone."
Russell Williams accepts Monticello-Goshen's highest honor
Monday, December 13, 2021  | Goshen, NY
by Chris Tully, Monticello-Goshen Chapter of USHWA
United States Trotting Association president Russell Williams told attendees at the 62nd annual awards banquet of the Monticello-Goshen chapter of the U.S. Harness Writers Assoc. (USHWA) that "The Jockey Club usually gives their Lifetime Achievement Award to individuals that are retiring.  I'm just getting started!"
One hundred and fifty Standardbred industry enthusiasts joined the Harness Writers in presenting Williams with the chapter's highest honor, their Lifetime Achievement Award at the Wallkill Golf Club in Middletown, NY on Sunday evening (Dec.12).  While it was not Williams' first industry tribute, he also noted, "I appreciate this award and all the work the Monticello-Goshen chapter does to distinguish individual success in our sport."
Also the president and CEO of Hanover Shoe Farms, which enjoyed a record season in 2021, Williams admits there is still a lot of work to do on behalf of our industry and he is ready for the challenge and eager do his part.
In addition to a host of human honorees, the season's top horses around the Orange and Sullivan county racetracks were recognized for their accomplishments on the racetrack.  The local Horse of the Year award was broken down into three categories: Pacing Horse of the Year, Epaulette A (trained by Laura Perino); Pacing Mare of the Year, Chasethecloudsway (Chris Petrelli); Trotter of the Year, Chip Chip Conway (Gary Messenger).
Monticello Raceway's perennial top reinsman Mike Merton was presented with the Driver of the Year Award, and Bo Sowers was recognized as the top conditioner with the Trainer of the Year Award.  Candyce Conroy from the Ray Schnittker Stable received the Caretaker of the Year award for her decade of service at Goshen Historic Track.
---
This year, in addition to the local horse awards, the Monticello-Goshen chapter honored Joe Faraldo (John Manzi Leadership Award); Bob Miecuna (Excelsior Award); John McDermott (John Gilmour Good Guy Award); Eric Taddeo (Cradle of the Trotter Breeders Award); Eddie Glick (Amy Bull Crist Distinguished Service Award); John Hernan (Phil Pines Award); Marianna Monaco (Amateur Driver); McGwire Sowers (Rising Star); and Susanne McManus & Mike Rivera (Mighty M Awards of Appreciation).
John McDermott receives John Gilmour Good Guy Award
Thursday, December 9, 2021
United States Harness Writers Association 62nd annual Awards Banquet
In harness racing, you can't talk about a Hurrikane horse without also mentioning John McDermott.  And it all started with a Donerail trotter named Hurri Kane Billy G. 
 
"All the Hurrikane horses are named after him, Hurri Kane Billy G."  McDermott described the process, "The horse was named after my son Kane, who my sister referred to as a Hurricane.  My partner, Billy Garofalo…his son was Billy G.  So we named that horse Hurri Kane Billy G.  And that was my favorite horse that I ever had.
 
Hurri Kane Billy G was no slouch either.  Earning $297,106 and taking a 1:53 back when that meant something.
 
No stranger to the winners circle either, McDermott has won over 600 races and $8.7 million as a horse trainer.  But McDermott also spent 10 years working as a police officer.
"I served in Summit, NJ, Sunrise, FL and Roxbury, NJ…I bounced around.  I told everybody that I got out of the police game because I had a terminal illness: the horses," McDermott said with a laugh. "That's my terminal illness."
McDermott clarified, "I did try to get out of the business once.  It was the worse month of my life.  I was working as a cop down in Florida and my wife said 'why don't you just go and claim a horse.'"
 Heeding his wife Nancy's advice, McDermott went to Pompano Park and used his Discover card to claim a pacer that same night.  And he has been at it ever since.
 
Now a resident of Goshen, a living on Parkway, the street that overlooks the backstretch, McDermott enjoys his '50-yard' commute to work each morning.  Training 20 horses and walking to work looks good on the 6'2" McDermott, whose brother Kevin is also an accomplished horse trainer.
 "For 20 years I lived two minutes from the Meadowlands," McDermott recalls.  "But when they closed the backstretch I was commuting to the farms in New Jersey every day.  It was crazy…the traffic, the tolls.  It was a nightmare."
 
McDermott went to Florida for a few years, staying in hotels during the summer in the Northeast.  That got to be too much as well.  Finally, he got an invitation from Ray Schnittker to check out Goshen. Married to his wife Nancy for 31 years, they raised three children: Shannon (28) , Johnny (27) and Kane (25).
 "It was the best move I ever made.  Ray and I get along real well and it's a great facility.  It's great to have somebody to rely on when you need help.  The people are nice, the track is good.  I love it here."
---
This year, in addition to the local horse awards, the Monticello-Goshen chapter honored Joe Faraldo (John Manzi Leadership Award); Bob Miecuna (Excelsior Award); John McDermott (John Gilmour Good Guy Award); Eric Taddeo (Cradle of the Trotter Breeders Award); Eddie Glick (Amy Bull Crist Distinguished Service Award); John Hernan (Phil Pines Award); Marianna Monaco (Amateur Driver); McGwire Sowers (Rising Star); and Susanne McManus & Mike Rivera (Mighty M Awards of Appreciation).
Back-to-back at Historic Track
By Debbie Little, for the New York Sire Stakes
One trainer, one horse and one spectacular event came up big for a second consecutive season here at Goshen Historic Track
On Sunday, September 5, the New York County Fair Finals (NYCFF) returned to Orange County, NY, for only the second time in its history, but that's not where the repeating ended. Trainer Claude Huckabone III won his second straight NYCFF title with his student Brave Element by scoring in the 3-year-old colt and gelding pace after winning the 2020 event for 2-year-old male pacers.
County fair races for 2021 were contested at 21 different tracks throughout New York State prior to the finals. To qualify for the finals at "The Cradle of the Trotter", the 22nd track of the season, all competitors needed to have at least five starts. The eight NYCFF races each sported a purse of $10,000, for 2- and 3-year-olds of both gaits and sex.
Huckabone III had a commanding lead in the standings coming into the finals, and although David Dewhurst won three times on the card, it wasn't enough.
Huckabone raced a total of 12 horses on the day and found the winner's circle with Brave Element (Bolt The Duer – Necessary Element), owned by Go Where The Money Is Stable and driven by Jordan Stratton, in a lifetime mark of 1:57.2. "He's like my son," said Huckabone III of Stratton. "He worked for me when he came here from Ohio. He's family and he's a great role model for my son."
Harness racing is a family business for Huckabone III, 47, whose dad Claude Huckabone Jr., 68, previously won the NYCFF training title in 2019. His son Dylan Huckabone-Miller, 20, finished second to Kyle Cummings this year in the driver standings in his first season racing full-time at the fairs.
"Kyle Cummings beat my son [for the driving title] and it was nip and tuck [to the end]," said Huckabone III. "Kyle did a great job today. He did a fantastic job. He drove some good horses and he put them in position when he needed to. I couldn't be happier for the guy. Leon [Bailey] and I did the same thing last year and he beat me out."
Cummings went into the finals with a slim lead in earnings over Huckabone-Miller, but by virtue of his two NYCFF victories, Cummings locked up the title.
Cummings made his first ever drive at GHT a winning one as he guided Blazin Chally (Conway Hall – Great Quantity) to a lifetime best 2:04 in the first race of the day. The 2-year-old filly trotter is trained by Douglas Ackley, who co-owns with his wife Tyra.
"I was really happy to win with Blazin Chally," said Cummings. "Great people. A family horse. It was awesome to win for them and they were ecstatic to be there."
His second victory was with Twin B Kini (Art Major – Twin B Bikini) in 1:58.2. The 3-year-old filly pacer is trained by Judith Blaun, who co-owns with John Sixt.
"It was awesome to win for Judy," said Cummings. "I've helped Judy with that filly since she was a 2-year-old. I helped her to train her down and it was nice to get that win. She's just a really good filly."
One big difference from last year was the return of fans in the stands. Due to COVID-19 restrictions in 2020, attendance for the NYCFF was limited to owners with advanced reservations who had to remain in designated areas.
This year the fans made up for that time away by braving a day with intermittent showers to cheer on their favorites.
"I couldn't believe the amount of noise when I was in the post parade [for the first race]," said Cummings. "And when I came back to the winner's circle after Blazin Chally won, they were just roaring. It's a great atmosphere."
Trainer David Dewhurst, who finished second to Huckabone for the training title, had a total of three wins on the card.
The aforementioned Bailey won with Dewhurst trainee Me Three (Chapter Seven – Lindy's Fireworks) in 2:00.4. The 3-year-old filly trotter is owned by Chris Lawton, Dale Lawton and Dewhurst.
Dewhurst also co-owns 2-year-old colt and gelding trot champ Makadushin N Cheez (Conway Hall – Tawesome More), who won in 2:03.4 for Joseph D'Agostino, Molly D'Agostino and Philip Kadushin, as well as 3-year-old colt and gelding trot winner Just For Luck (Lucky Chucky-Arenal), who scored in 2:01 and is co-owned by Dewhurst and Philip Hale. Both champs were driven to victory by Jim Devaux.
Instant Expert (Huntsville – Pedigree Snob), driven by Greg Merton, won the 2-year-old colt and gelding pace for co-owner/trainer Jim Graham and partners Paul Tandlmayer, Lee Winters and Edward Peron in 1:58.4, and in the process, lowered his previous lifetime best by seven-and-one-fifth seconds.
The 2-year-old filly pace was won by Center Attraction (American Ideal – Art Center) in a lifetime-best 1:59.2. She is owned by Robert Anderson and Pamela Schieber, trained by Anderson and was driven by Denny Bucceri.
Amidst the eight NYCFF races was a two-horse Racing Under Saddle event that was won by Armbro Hall, who was ridden by Cathy Gearwar. Railroad Lane and rider Michelle Miller were second.
Following the fourth race, track announcer Dave Little recognized Major Lindsay Jacobson, who was in the grandstand with her family. Major Jacobson is a graduate of Goshen High School and is a C-17 pilot with the 105th Air Lift Wing out of Stewart Air National Guard Base in Newburgh. She recently returned home from Afghanistan, where she was part of Operation Allies Refuge, helping in the evacuation effort. She received a standing ovation from the crowd at Historic Track.
For anyone who couldn't make it to Goshen or would just like to see the races again, the Agriculture & New York State Horse Breeding Development Fund sponsored a livestream of the races hosted by Kelly Young and Mark Shero, which can be viewed for a year through a link at www.nysirestakes.com.
Country Fair Racing & Craft Fair
On September 5th a wonderful time was had by all, as they used to say. We were able to put our COVID masks aside while keeping our distance so we could enjoy harness racing at its finest along with music and crafts. Before 1:00pm Post Time, spectators were able to browse and purchase any number of wonderful crafts by local artists and craftsmen while rockin' to the live music of "Dusty & Dave". There was also face painting and great food!
In partnership with the Goshen Chamber of Commerce we were able to Keep A Tradition Alive and hopefully start a new one: The New York Sire Stakes at the Track AND a Crafts Fair!
In Memory of Bernie White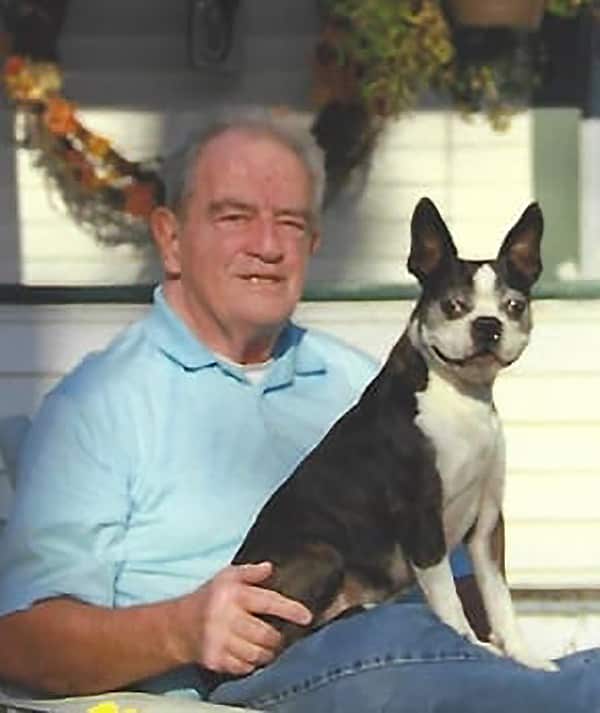 By Chris Tully
Bernard Joseph White, sports fan, dog lover, harness horse breeder, and beer & brat connoisseur passed away, 31 July 2021, at the age of 85. Born in the South Bronx on 23 November 1935, Bernie honed his basketball skills on the streets of NY. Moving to Pine Bush his sophomore year was a big shock…. He took a school bus instead of the subway and he showed up to high school in a suit, like a good Catholic school boy would, forcing all of the students to wonder "who died"? He soon found his way in school playing on the undefeated Bushman Football team and Basketball team for the rest of his tenure at PBHS.
After graduation, he journeyed to East Lansing to attend Michigan State University where he played football. Graduating with a BS in Business, he worked as a Salesman for Proctor & Gamble for 5 years. Always loving a good beer and brat, he found himself spending a lot of time in Madison, WI, where he met a lovely lady, Heidi Pofahl, on a double date for Valentine's Day in 1960. They had not met before but they immediately hit it off and ended up closing the bar that night.
He returned to Pine Bush "temporarily", when his father died in 1960 to manage White's Bar on an interim basis. Realizing how much he loved the country, he received a Master's Degree in Education from SUNY New Paltz and started his career as a teacher and, eventually, a high school administrator. Around this time, the Standardbred industry was booming and Bernie was thrilled to be part of the action, purchasing his first race horse "Some Adam".
In 1976, he and Heidi built Tamarack Manor and started their own Standardbred nursery. He loved breeding his own race horses, watching them train and race. Serving as the President of Goshen Historic Track for 12 years, he oversaw the resurfacing of the racetrack, renovation of the Grand Stand and expansion of stabling. He loved going to the Great American Weekend over July 4th weekend and experiencing the sport in such a historical environment.
Bernie is survived by his wife, Heidi, of 52 years, his daughters, Heather & Holly and his granddaughter, Karolina Krogius, his dog Theo, his brother Robert White, sister in-law, Peggy White, and many treasured nieces, nephews, cousins, both here and Ireland, as well as so many friends. He was also a mentor to many kids throughout his career in education. In addition to his parents, Bernie was predeceased by his siblings, William, Jack, Michael, and Nora.
Visitation will be held at the William M. Gagan Funeral Home on Wednesday 4 August 2021 from 4-8PM. A funeral mass will be at Infant Savior in Pine Bush, NY on Thursday 5 August 2021 at 11AM . In lieu of flowers, memorial contributions in Bernie's memory may be made to the Goshen Historic Track. 44 Park Pl, Goshen, NY 10924 (info@goshenhistorictrack.com.)
To leave an online condolence please visit www.wmgaganfuneralhome.com
Historic Track Receives $3,000 From Monticello-Goshen USHWA!
By Chris Tully

J
ust before the annual
Hall of Fame Trot
at
Goshen Historic Track
, the
Monticello-Goshen Chapter of the United States Harness Writers Association
made their annual donation Sunday (July 4) to the
Harness Racing Museum & Hall of Fame
. Goshen Historic Track president
Steve Jones
cheerfully accepted the donation from chapter president Chris Tully and chapter secretary
Janet Terhune
. Jones stated, "
The track is always grateful for the funds received by the Harness Writers. Attendance at the races was strong this year, but we can still use help from within, and outside of, our industry to keep things running. This donation will certainly help defray some of our expenses.
" Tully emphasized that, "
Historic Track is an important venue to so many fans and participants in harness racing. We feel privileged to help them continue their mission of preserving sport for sport's sake.
"
Despite postponing their annual banquet in 2020 due to the pandemic, the chapter had sufficient prudent reserve to allow the benevolent organization to make this year's donations to both Goshen Historic Track and the Harness Racing Museum & Hall of Fame, two separate and distinct entities that share the same hallowed ground and a mutual purpose of preserving and promoting harness racing. The practice of raising money and donating funds to Historic Track and the Hall of Fame began in the mid-1970s with Monticello Raceway publicity icon John Manzi, and has continued ever since.
Back again this year, the banquet will be the chapter's 62nd annual event and is being held at the Wallkill Golf Club on Sunday, December 5, 2021.