2024 Race Dates: 
July 5-7, 2024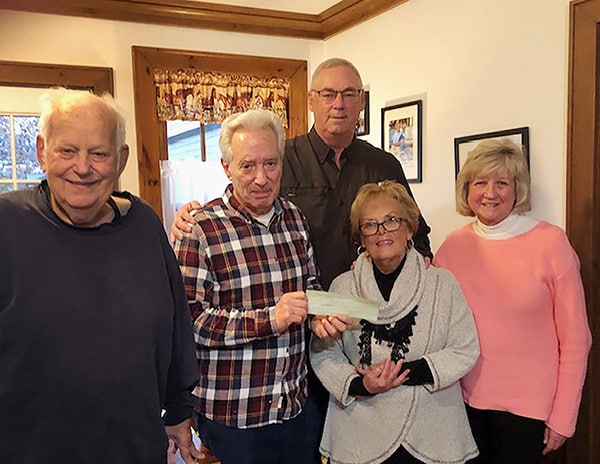 Historic Track Receives $20,000 Donation from Auxiliary of Goshen Historic Track
GOSHEN, NY 11/14/23 – At the monthly meeting of the Board of Directors of Goshen Historic  Track, the members of the Auxiliary of Goshen Historic Track presented their annual donation. This year they were pleased to make a contribution of $20,000. They said that this year $4,000 of this donation came from the 1st  annual Junk in the Trunk community sale event. The remaining funds came from the March Madness Restaurant Raffle, as well as from the Grand Circuit Races – the Wheel of Chance, 50/50, and t-shirt and souvenir sales. Goshen Historic Track is the world's oldest active harness racing track, as well as an Orange County icon. The track's Board continues to be grateful to the Auxiliary for its help in keeping the tradition of harness racing alive.
(l-r) William J. Murray, Chairman of the Board, George Casale, Vice President, Steve Jones, President, Donna Drybred, Co-president, Auxiliary, Eveline White, Co-president, Auxiliary. • Photo by Linda Myers
13 is a lucky number.



That's right!
You have 13 chances to win from $5,000 to $100

in Goshen Historic Track's annual Winter Raffle. It's easy to enter.
First Prize:

$5,000.00

Second Prize:

$1,000.00

Third Prize:

$500.00

TEN additional winners

will receive $100.00 prizes
Just call us at the Track office at
845-294-5333

and we will mail you your tickets OR stop by our office Monday through Thursday at our office hours from 9:00 am to 5:00 pm. Help us keep the tradition of harness racing alive!
Junk In The Trunk; a day of finds, food and fun
If one person's junk can be another person's treasure, Goshen Historic Track's first ever Junk In The Trunk event was a cornucopia of keepsakes. In addition, there were crafters and collectors with one-of-a-kind offerings ready to trade, bargain and sell. If you missed it all, there is always next year!
---
There were 130 cars in all and we had 5 food trucks offering wood- fired pizza,  sausage & peppers, pulled pork, smashed burgers, breakfasts, Puerto Rican coffee, ice cream and cookies.
---
Among the items the vendors were selling:
• Candles
• Household items
• Seasonal: Christmas/Halloween
• Furniture
• Dog treats
• Handmade wishing wells
• Native American Crafts
The Budweiser Clydesdales return
September 7, 2023. The world-famous Budweiser Clydesdales, sponsored by Dana Distributors, made a commanding appearance at Goshen Historic Track to the enjoyment of a large crowd. County Executive of Orange County Steve Neuhaus was also there to add to the cheers and take photos.  The Clydesdales have been here before and are always welcomed. Of all the venues they participate in, ours is one of the most welcoming. They, too, are historic!

DID YOU KNOW: In April 1933, August A. Busch, Jr. and Adolphus Busch III surprised their father, August A. Busch, Sr., with the gift of a six-horse Clydesdale hitch to commemorate the repeal of Prohibition of beer.
In order to join the World Famous Budweiser hitch, a Clydesdale must:
stand at least 18 hands high (6 feet tall).
be a gelding and at least 4 years old.
have a bay coat, four white stockings, a blaze of white on the face, a black mane and a black tail.
weigh between 1,800 and 2,300 pounds.
A sweet and/or savory time was had by all!
Thanks to two very special vendors from our area:
All For One One For All
The dynamic duo rode their bike cart from the farm over to the track and they offered what they typically bring to the Goshen farmer's market: egg salad sandwiches, chicken salad sandwiches, 2 types of dessert (chocolate mousse, crème caramel) and herbal iced tea. Everything is made from scratch at their  farm. They were so happy to be here and have exposure in the community.
Ice Capps of Goshen
They are a repeat vendor to the track, locally owned, they only use fresh, natural ingredients, for their gelatos and Italian Ices. It was a pleasure to welcome them back to the track.
Harness Horse Youth Foundation Collectibles

2023 Harness Heroes Sets Are Now Available!
As an annual host to one of HHYF's stellar training events, Goshen Historic Track would not want you to miss an opportunity to collect these popular cards!  They feature annual Dan Patch and O'Brien award winners as well as Hall of Famers!
Card sets have been produced annually since 1991.
The Harness Horse Youth Federation also offers packs of 10 random cards as handouts for youth groups, farm tours, and other promotional events. A limited number of previous years' card sets are also available.
The suggested donation is $25 per set US funds.
For more details, please e-mail Ellen Taylor  ellen@hhyf.org.
For more information and to order click here https://hhyf.org/harness-heroes/
Harness Horse Youth Foundation "Preserves the Tradition"

Returning to Goshen Historic Track for its 20th year, the Harness Horse Youth Foundation was a very well attended event. 21 young equestrians learned all aspects of harness racing; from horse care and safety precautions to equipment and the essentials of driving. A great time was had by all of the campers, especially when they took horses out onto the track! 
2023 marks the 45th anniversary of the Harness Horse Youth Foundation. This year we were the 13th stop of 17 in what is a seven month tour dedicated to providing young people and their families educational opportunities with harness horses. The Foundation's goal is to foster the next generation of harness racing participants and fans.
Assisting Ellen Taylor, the Foundation's Director, were 3 outstanding drivers who took the boys and girls out on the track. D.R. Ackerman, an owner, trainer and driver and seasonal tenant at Goshen Historic Track, shared his expertise with the young harness racers. He helps Ellen on a regular basis. Shane Darish recipient of the Rising Star Award from the Monticello Goshen Chapter of the United States Harness Writers Association was on hand sharing his knowledge with the happy campers.  Finally, Bob Lasky, a great addition to the HHYF for the past three years, transported the horses from one location to the next, but also pitches in as a groom as well as an educator.
Thanks to Far Out Farm The Harness Horse Youth Foundation received a significant donation honoring one of the industry's hardest working good guys, Chris Wittstruck, a Director of the Standardbred Owners Association of NY and pension trustee and member of USHWA. As a 501 (c) (3), HHYF operates primarily on the support of public and private donations. LEARN MORE
Before leaving Goshen Historic Track to head to the Hambletonian, Ellen wanted to acknowledge the entire Track staff who made HHYF once again feel like they were at home. Eddie, Bob and Richie did an amazing job in the maintenance department while Linda and Jill helped coordinate in the office. Goshen is always fun and exciting ! HHYF looks forward to returning in 2024. Goshen Historic Track takes pride in its historic mission to "Preserve the Tradition of Harness Racing".
Goshen Historic Track looks back on its 113th Season
The weather during the three days of historic racing may have been iffy at times, but the enthusiasm of the crowds was anything but. Goshen Historic Track finished up its 113th season of racing with quite a few standout performances. Among them was Michelle Miller, who pulled ahead of the competition with Myviewisblocked in Race 5.
Looking Back…
The Track was very fortunate to have a new photographer at this year's races, covering historic moments alongside veteran Track Photographer Geri Schwarz. Adam Ramli's camera caught a lot of excitement in 3 amazing days. See what you might have missed.
Check back for more images soon
Stratton and Met Your Request dominate Historic Track Sunday
With Mother Nature not quite sure what direction to go on Sunday, Met Your Request and Jordan Stratton, fresh off his Messenger Stakes win Friday night, proved to be beasts of their own with a thirteen length win over 3-year-old trotters on a perfect Historic Track surface.
Covering the one-mile distance in 1:55.1, the gelded son of Mets Hall shot right to the front and as they say, improved his position from there. Trained by Julie Miller and owned by Andy Miller Stable Inc. and Carroll Huffman, it was Stratton's first win of three on the day.
Woolco, a three-year-old Chapter Seven filly, trained, owned, and bred by Robert Krivelin, captured a division of the New York Excelsior for fillies in a swift 1:58.1. Jordan Stratton got the filly away third and sat until the three-quarter pole moving her out and just getting up at the wire for the victory.
The Jason Bartlett show also continued to be on stage as he captured three wins on the program. The John McDermott-trained Hurrikane Sweetie, a 2-year-old Chapter Seven filly, was extremely impressive stopping the timer in 2:02 for a wire-to-wire victory with Bartlett.
Jared Bako, showing he is not just a trainer of overnight horses, unleashed a nice Huntsville two-year-old gelding to a 1:55.4 victory. Driven by the trainer, Vandiemen Bluechip got away in the two hole and brushed past the half, winning convincingly by three lengths. Owned by Blue Chip Bloodstock, Bako trained the first and second place finishers.
Goshen Historic Track concludes its 2023 race meet tomorrow, July 3rd with New York County Fair day. Everyone is welcome to enjoy a festiv day of food and activities. Admission is $5 with children under twelve admitted free. First post at 1pm and gates open at 11am.
Local Residents Dominate Opening Day
Goshen, NY | 070123: Saturday's opening of the 2023 race meet at Goshen Historic Track was a grand display of local Orange County horsemanship as Goshen, N.Y. resident Jason Bartlett, fresh off his 10,000 victory was victorious 4 times on the day, another 2 gentlemen calling Orange County their home Mark Macdonald and Jordan Stratton each recorded 2 victories apiece to make the day a local success.
Hurrikane Hunter, trained by Historic Track tenant John Mc Dermott, was the fastest victor of the day stopping the timer in 1:53.3. Starting from the advantageous rail position and driven by Bartlett, the 3-year-old son of Huntsville hammered out fractions of 28.1, 58, 1:26.3 and a 27 flat final quarter to achieve that final time. The gelding is owned by Jonathan Klee Racing, Taddeo Sienicki Stables, Bolasci, Garofalo and Bred locally by Steve Jones.
The Stallion Huntsville, who makes his home at Cameo Hills Farm within shouting distance of Historic Track recorded 4 wins on the race card as well. Huntsville's dominance in New York recently was reflected in Saturday's races. This truly added to the local human and equine success.
The one amateur race of the card, a CKG Billings event was won by the Andrew Adamzcyk trained Call Me the Fireman. Driven by Amateur Driver of the year Anthony Verruso, the 7-year-old Wishing Stone gelding owned by Verruso led start to finish to hold on by half a length over Shoemaker Hanover and John Calabrese. Stopping the timer in 1:59.3.
Saturday's races were held under beautiful conditions as Mother Nature and Canadian Wildfires were all kept at bay and the filled Grandstand was a reflection of it. Sunday is hopefully going to be the same result. More New York Sire Stakes and Landmark Stakes headline the fields. With first post again at 1 p.m. and gates opening at 11 a.m. Admission is $5 and children under 12 admitted free.
Thank you to our 2023 Race Season Sponsors!
The 6th Annual Car Show & Food Truck Festival A Big Hit!
Orange County Fire Police shines
with a tradition of its own
Thanks to all that participated and visiting the 6th Annual Volunteer Fire Police Car Show and Food Truck Festival. We hope to see you again at next year's event!
Auxiliary of  Goshen Historic Track Receives Amy Bull Crist Distinguished Service Award
Presented by Monticello-Goshen Chapter USHWA
The Auxiliary of Goshen Historic Track is a non-profit organization made up of men and women interested in preserving the traditions of the Track. This organization raises funds to benefit the Track and lends extensive volunteer help during race days and special events.
The Auxiliary was founded in 1982 to preserve this Historic Landmark as an active part of the extended community by donating funds raised by the hard work of Auxiliary members in planning and executing a variety of fundraisers. The February Frolic, which is now known as March Madness, has prize donations of gift certificates from local restaurants, and is one of the successful ventures run by the Auxiliary. Some of the innovative fundraisers have included a fashion show and silent auction, the Road Apple Raffle, the Garden Party Luncheon at the Track on race days, creating and selling fashionable hats for the annual Derby Day BBQ, and always being on hand to host a 50/50 raffle, running the Prize Wheel and selling track souvenirs on race days. With these funds, the Track has been able to refurbish and maintain the Track, buildings and grounds. This year, 2022, the Auxiliary's donation was a record-breaking $20,000, and in the last 13 years, the organization has donated an impressive $126,000 to Historic Track.
In 2022, the Auxiliary is celebrating 40 years of dedicated service to help maintain the traditions of Goshen Historic Track. The current officers are Donna Drybred and Eveline White, co-presidents, Carol Drummond, secretary, Gerry Rosina, treasurer, Judy Green, membership, Diane Leo, volunteer coordinator. Previous officers have included Carol Britten, Pam Bruckner, Helen Dana, Ursula Degenhardt, Chris Dowdell, Linda Flanagan-Doolittle, Trudi Graham and Joanne Young.
Current members of the Auxiliary of Goshen Historic Track include:
| | | | |
| --- | --- | --- | --- |
| Donna Benson | Judy Green | Molly O'Donnell | Claude Vallet |
| Sean Burke | Debbie Heppes | Mary Prais | Rose Volaski |
| Ursula Degenhardt | Paul Heppes | Carole Ribitzki | Barbara Wanser |
| Margaret Dickover | Barbara Korycki | Gerry Rosina | Eveline White |
| Carol Drummond | Diane Leo | Diane Shuback | Heidi White |
| Marcia Faber | Heather Monroe | Janice Steeves | Joanne Young |
| Trudi Graham | Linda Myers | Pat Strong | |
| | Sue Myruski | Mary Troy | |
Venerable to Cameo Hills Farm
November 16, 2022, from Cameo Hills Farm • Montgomery, NY
Venerable 2,1:52, the 2021 Dan Patch 2-year-old Trotting Filly of the Year, winner of the 2021 Mohawk Million, Jim Doherty, Peaceful Way, NJSS Final, and Hambletonian Oaks elimination in 2022, has been sold to Cameo Hills Farm.
Venerable is Walner's richest performer, and she retires with earnings of $1,187,339.
Also purchased by Cameo Hills is Delilah Hanover 3,1:54.2f ($308,331) by Muscle Hill out of Danielle Hanover); world champion Bluebird Dove 3,1:52.2h ($226,306), who set a world record on a half-mile track, winning the 2022 Buckette; and Bee My Muscle, a Muscle Hill daughter of the great Bee A Magician.
These fillies join Check Me Out, You Ato Dream, Hey Blondie, Mazzarati, Whose Blues, Violet Stride, Check Out Trixie and other top trotting fillies owned by Cameo Hills Farm.
Cameo Hills Farm bred King Of The North 3,1:50.3s ($1,166,854), the 2021 Dan Patch 2-year-old Trotting Colt of the Year and 2022 Breeders Crown winner, making him the richest and fastest colt sired by Walner to date.
King Of The North gets his 'Crown'
October 29, 2022, by Ray Cotolo, for Woodbine Communications
Milton, ON — Off his 28-1 powerhouse performance in the elimination, King Of The North followed that effort with total destruction of his competition to win the $600,000 Breeders Crown 3-year-old colt trot on Saturday night (Oct. 29) at Woodbine Mohawk Park.
Driver Mark MacDonald hustled King Of The North to the lead to a :26.2 first quarter with World At War Deo in second and Cool Papa Bell third. MacDonald didn't hit the breaks up the backside and clicked the half in :54.3 as Cool Papa Bell angled to race first over into the final turn.
With King Of The North striking hot on the lead, MacDonald decided to let his charge "go down swinging." He spurted by three-quarters in 1:22.1 and punched the wind out of his competition's sails through the lane to register a 4-1/4 length victory in 1:50.3 and smash the stakes record, as well as the Canadian record he set just last week.
"I did not think I could relive the American Ideal moment again, where I just was asking a horse at the head of the stretch to please not stop. But it happened," Mark MacDonald said after the race. "The first quarter was a little hotter. When the half popped up, I planned on tapping the breaks to the last turn to try and race Cool Papa Bell, because I didn't like the one behind me. He just felt so good, I thought 'You know what, it's all or nothing now."
King Of The North's 1:50.3 mile crushed the stakes record of 1:51.2 set last year by Jujubee as well as the 1:51.1 Canadian record set by King Of The North in his elimination. The time also beats the all-age record for a trotting male and comes just a fifth of a second off the all-time Canadian trotting record of 1:50.2 set in 2019 by a then 4-year-old Atlanta.
The annihilation of his peers and the Breeders Crown hardware notched an eighth win on King Of The North's 23-race card and propelled him to millionaire status for owners Schnittker Ward, Arden Homestead Stable, Nolamaura Racing and Steven Arnold. The victory also marked a continued turnaround for the Walner colt, out of former Ray Schnittker star trotting filly Check Me Out, who demonstrated high promise as a 2-year-old which had yet to reach fruition in his sophomore season.
"I didn't know why it wasn't clicking earlier in the year," trainer Ray Schnittker said after the race. "He raced really good in Lexington and in the Canadian Trotting Classic. I kind of thought he was coming (around) but I didn't think he was going to be this good. Now he's showing what I really thought he was."
Mark MacDonald collected his fourth Breeders Crown trophy and his first since winning the 2017 Mare Pace with Pure Country. Ray Schnittker, who bred King Of The North along with Steve Jones, added a fourth Breeders Crown trophy to his resume — his first in this event — and his first since Huntsville won the 2016 2-year-old colt pace.
King Of The North paid $12.90 to win.
Historic Track receives $4,000 from Monti-Goshen USHWA
Tuesday, July 5, 2022 – from the Monticello-Goshen Chapter of USHWA
GOSHEN, NY –  On Hall of Fame Day (July 3), the Monticello-Goshen Chapter of the United States Harness Writers Association made their annual donation of $4,000 to Goshen Historic Track.
Track president Steve Jones accepted the donation from chapter president Chris Tully, while simultaneously holding the So Surreal gelding JD, who had just set the 1:52 all-age track record at the landmark harness racing venue.
JD, driven by Mark MacDonald for trainer/co-owner Ray Schnittker and breeder/co-owner George Zitone (with Melissa Beckwith) erased the 1:52.4 record previously set by Flipper J in 2011. Jones stated,
"This has been a fabulous three days of racing, and the track is grateful for the decades of support from our local harness writers."
Tully emphasized that, "Historic Track is a grand institution to so many fans and participants in harness racing. There were literally thousands of people here this weekend. We consider it an honor and a privilege to continue to raise money for both Goshen entities."
The organization makes annual donations to both Goshen Historic Track and the Harness Racing Museum & Hall of Fame, two separate and distinct entities that share the same hallowed ground and a mutual purpose of preserving and promoting harness racing. The practice of raising money and donating funds to Historic Track and the Hall of Fame began in the mid-1970s with Monticello Raceway publicity icon John Manzi, and has continued ever since. In just the last 20 years, the local Monticello-Goshen chapter has donated well over $100,000 to these important industry preservationists.
This year's Monticello-Goshen USHWA awards banquet will be the chapter's 63rd annual event and is being held at the Wallkill Golf Club on Sunday, December 11, 2022, where Hall of Famer Wally Hennessey will be the chapter's primary honoree. — By Chris Tully
Eddie Glick  receives the Amy  Bull Crist Distinguished Service Award
Monday, December 13, 2021  | Goshen, NY
by Chris Tully, Monticello-Goshen Chapter of USHWA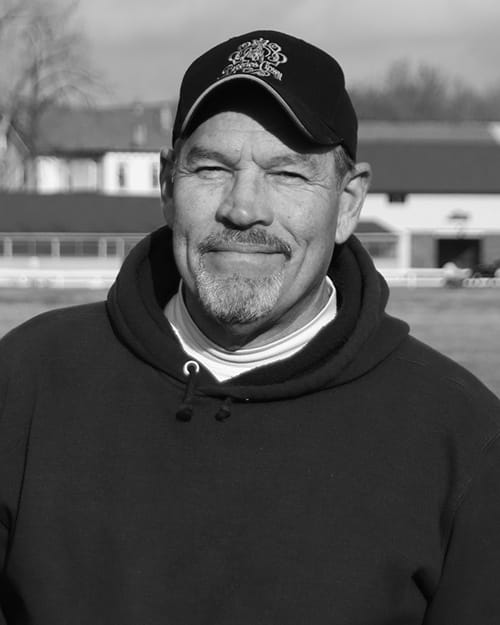 Eddie Glick is the Facility Supervisor at Goshen Historic Track. A lifelong area resident, Glick has been working at the 'Cradle of the Trotter' for seven years full time.
"I have been working the track itself for over twenty years," noted Glick. "I used to help out during the Grand Circuit and during snow storms part time."
But now Glick oversees all the operations at the racetrack and training facility. Capable of housing 108 racehorses, the training center is home to about 50 head during the winter months. When Glick is not working the harrow or adding water to the stone dust he ensures that the shaving bins are full and that the manure bins are neat and tidy. In addition to the daily maintenance of the facility, Glick has also played a key role in several large projects around the backstretch.
"We renovated the Arden Barn extension, completed the Fleming Barn and performed a complete remodel and renovation of the grandstand. The seating area received a complete water proof liner that now protects the entire lower level from the elements."
At 110 years old, the Goshen Historic Track grandstand is always in need of some maintenance, and Glick has also overseen the renovation of the interior lower level offices to protect from past water issues and age-related deterioration. In addition, the roof of the Grandstand as well as the infield Judges Stands, have been replaced in the last decade.
Of course, with many racetracks being built on the lowest, and often soggiest, sections of town, Goshen is no exception. "We have a constant battle with the elements to eradicate water from the track during the winter months. Many tracks were built on
wetlands, and this track is definitely in a soup bowl," Glick says with a chuckle. "The infield has a clay base so it does not shed water too well."
So what's next on the agenda? "We want to address the aging tote board in the infield. That needs some TLC, for sure," noted Glick. "And we are also improving the floors and some of the substructure in the race paddock. New concrete is being poured, with new posts and fresh lumber and paint applied as necessary. There is always something to fix. We must make the racing a great experience for everyone."
Goshen Historic Track | Established 1838 | A National Historic Landmark
44 Park Place | Goshen, New York, 10924 | P: 845.294.5333 | F: 845.294.3998
Email: info@goshenhistorictrack.com