Back-to-back at Historic Track
By Debbie Little, for the New York Sire Stakes
One trainer, one horse and one spectacular event came up big for a second consecutive season here at Goshen Historic Track
On Sunday, September 5, the New York County Fair Finals (NYCFF) returned to Orange County, NY, for only the second time in its history, but that's not where the repeating ended. Trainer Claude Huckabone III won his second straight NYCFF title with his student Brave Element by scoring in the 3-year-old colt and gelding pace after winning the 2020 event for 2-year-old male pacers.
County fair races for 2021 were contested at 21 different tracks throughout New York State prior to the finals. To qualify for the finals at "The Cradle of the Trotter", the 22nd track of the season, all competitors needed to have at least five starts. The eight NYCFF races each sported a purse of $10,000, for 2- and 3-year-olds of both gaits and sex.
Huckabone III had a commanding lead in the standings coming into the finals, and although David Dewhurst won three times on the card, it wasn't enough.
Huckabone raced a total of 12 horses on the day and found the winner's circle with Brave Element (Bolt The Duer – Necessary Element), owned by Go Where The Money Is Stable and driven by Jordan Stratton, in a lifetime mark of 1:57.2. "He's like my son," said Huckabone III of Stratton. "He worked for me when he came here from Ohio. He's family and he's a great role model for my son."
Harness racing is a family business for Huckabone III, 47, whose dad Claude Huckabone Jr., 68, previously won the NYCFF training title in 2019. His son Dylan Huckabone-Miller, 20, finished second to Kyle Cummings this year in the driver standings in his first season racing full-time at the fairs.
"Kyle Cummings beat my son [for the driving title] and it was nip and tuck [to the end]," said Huckabone III. "Kyle did a great job today. He did a fantastic job. He drove some good horses and he put them in position when he needed to. I couldn't be happier for the guy. Leon [Bailey] and I did the same thing last year and he beat me out."
Cummings went into the finals with a slim lead in earnings over Huckabone-Miller, but by virtue of his two NYCFF victories, Cummings locked up the title.
Cummings made his first ever drive at GHT a winning one as he guided Blazin Chally (Conway Hall – Great Quantity) to a lifetime best 2:04 in the first race of the day. The 2-year-old filly trotter is trained by Douglas Ackley, who co-owns with his wife Tyra.
"I was really happy to win with Blazin Chally," said Cummings. "Great people. A family horse. It was awesome to win for them and they were ecstatic to be there."
His second victory was with Twin B Kini (Art Major – Twin B Bikini) in 1:58.2. The 3-year-old filly pacer is trained by Judith Blaun, who co-owns with John Sixt.
"It was awesome to win for Judy," said Cummings. "I've helped Judy with that filly since she was a 2-year-old. I helped her to train her down and it was nice to get that win. She's just a really good filly."
One big difference from last year was the return of fans in the stands. Due to COVID-19 restrictions in 2020, attendance for the NYCFF was limited to owners with advanced reservations who had to remain in designated areas.
This year the fans made up for that time away by braving a day with intermittent showers to cheer on their favorites.
"I couldn't believe the amount of noise when I was in the post parade [for the first race]," said Cummings. "And when I came back to the winner's circle after Blazin Chally won, they were just roaring. It's a great atmosphere."
Trainer David Dewhurst, who finished second to Huckabone for the training title, had a total of three wins on the card.
The aforementioned Bailey won with Dewhurst trainee Me Three (Chapter Seven – Lindy's Fireworks) in 2:00.4. The 3-year-old filly trotter is owned by Chris Lawton, Dale Lawton and Dewhurst.
Dewhurst also co-owns 2-year-old colt and gelding trot champ Makadushin N Cheez (Conway Hall – Tawesome More), who won in 2:03.4 for Joseph D'Agostino, Molly D'Agostino and Philip Kadushin, as well as 3-year-old colt and gelding trot winner Just For Luck (Lucky Chucky-Arenal), who scored in 2:01 and is co-owned by Dewhurst and Philip Hale. Both champs were driven to victory by Jim Devaux.
Instant Expert (Huntsville – Pedigree Snob), driven by Greg Merton, won the 2-year-old colt and gelding pace for co-owner/trainer Jim Graham and partners Paul Tandlmayer, Lee Winters and Edward Peron in 1:58.4, and in the process, lowered his previous lifetime best by seven-and-one-fifth seconds.
The 2-year-old filly pace was won by Center Attraction (American Ideal – Art Center) in a lifetime-best 1:59.2. She is owned by Robert Anderson and Pamela Schieber, trained by Anderson and was driven by Denny Bucceri.
Amidst the eight NYCFF races was a two-horse Racing Under Saddle event that was won by Armbro Hall, who was ridden by Cathy Gearwar. Railroad Lane and rider Michelle Miller were second.
Following the fourth race, track announcer Dave Little recognized Major Lindsay Jacobson, who was in the grandstand with her family. Major Jacobson is a graduate of Goshen High School and is a C-17 pilot with the 105th Air Lift Wing out of Stewart Air National Guard Base in Newburgh. She recently returned home from Afghanistan, where she was part of Operation Allies Refuge, helping in the evacuation effort. She received a standing ovation from the crowd at Historic Track.
For anyone who couldn't make it to Goshen or would just like to see the races again, the Agriculture & New York State Horse Breeding Development Fund sponsored a livestream of the races hosted by Kelly Young and Mark Shero, which can be viewed for a year through a link at www.nysirestakes.com.
Country Fair Racing & Craft Fair
On September 5th a wonderful time was had by all, as they used to say. We were able to put our COVID masks aside while keeping our distance so we could enjoy harness racing at its finest along with music and crafts. Before 1:00pm Post Time, spectators were able to browse and purchase any number of wonderful crafts by local artists and craftsmen while rockin' to the live music of "Dusty & Dave". There was also face painting and great food!
In partnership with the Goshen Chamber of Commerce we were able to Keep A Tradition Alive and hopefully start a new one: The New York Sire Stakes at the Track AND a Crafts Fair!
In Memory of Bernie White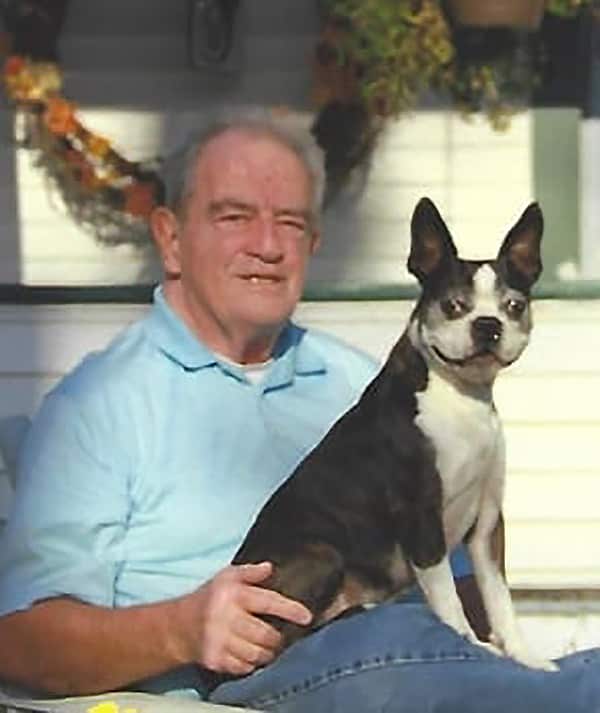 By Chris Tully
Bernard Joseph White, sports fan, dog lover, harness horse breeder, and beer & brat connoisseur passed away, 31 July 2021, at the age of 85. Born in the South Bronx on 23 November 1935, Bernie honed his basketball skills on the streets of NY. Moving to Pine Bush his sophomore year was a big shock…. He took a school bus instead of the subway and he showed up to high school in a suit, like a good Catholic school boy would, forcing all of the students to wonder "who died"? He soon found his way in school playing on the undefeated Bushman Football team and Basketball team for the rest of his tenure at PBHS.
After graduation, he journeyed to East Lansing to attend Michigan State University where he played football. Graduating with a BS in Business, he worked as a Salesman for Proctor & Gamble for 5 years. Always loving a good beer and brat, he found himself spending a lot of time in Madison, WI, where he met a lovely lady, Heidi Pofahl, on a double date for Valentine's Day in 1960. They had not met before but they immediately hit it off and ended up closing the bar that night.
He returned to Pine Bush "temporarily", when his father died in 1960 to manage White's Bar on an interim basis. Realizing how much he loved the country, he received a Master's Degree in Education from SUNY New Paltz and started his career as a teacher and, eventually, a high school administrator. Around this time, the Standardbred industry was booming and Bernie was thrilled to be part of the action, purchasing his first race horse "Some Adam".
In 1976, he and Heidi built Tamarack Manor and started their own Standardbred nursery. He loved breeding his own race horses, watching them train and race. Serving as the President of Goshen Historic Track for 12 years, he oversaw the resurfacing of the racetrack, renovation of the Grand Stand and expansion of stabling. He loved going to the Great American Weekend over July 4th weekend and experiencing the sport in such a historical environment.
Bernie is survived by his wife, Heidi, of 52 years, his daughters, Heather & Holly and his granddaughter, Karolina Krogius, his dog Theo, his brother Robert White, sister in-law, Peggy White, and many treasured nieces, nephews, cousins, both here and Ireland, as well as so many friends. He was also a mentor to many kids throughout his career in education. In addition to his parents, Bernie was predeceased by his siblings, William, Jack, Michael, and Nora.
Visitation will be held at the William M. Gagan Funeral Home on Wednesday 4 August 2021 from 4-8PM. A funeral mass will be at Infant Savior in Pine Bush, NY on Thursday 5 August 2021 at 11AM . In lieu of flowers, memorial contributions in Bernie's memory may be made to the Goshen Historic Track. 44 Park Pl, Goshen, NY 10924 (info@goshenhistorictrack.com.)
To leave an online condolence please visit www.wmgaganfuneralhome.com
Historic Track Receives $3,000 From Monticello-Goshen USHWA!
By Chris Tully

J
ust before the annual
Hall of Fame Trot
at
Goshen Historic Track
, the
Monticello-Goshen Chapter of the United States Harness Writers Association
made their annual donation Sunday (July 4) to the
Harness Racing Museum & Hall of Fame
. Goshen Historic Track president
Steve Jones
cheerfully accepted the donation from chapter president Chris Tully and chapter secretary
Janet Terhune
. Jones stated, "
The track is always grateful for the funds received by the Harness Writers. Attendance at the races was strong this year, but we can still use help from within, and outside of, our industry to keep things running. This donation will certainly help defray some of our expenses.
" Tully emphasized that, "
Historic Track is an important venue to so many fans and participants in harness racing. We feel privileged to help them continue their mission of preserving sport for sport's sake.
"
Despite postponing their annual banquet in 2020 due to the pandemic, the chapter had sufficient prudent reserve to allow the benevolent organization to make this year's donations to both Goshen Historic Track and the Harness Racing Museum & Hall of Fame, two separate and distinct entities that share the same hallowed ground and a mutual purpose of preserving and promoting harness racing. The practice of raising money and donating funds to Historic Track and the Hall of Fame began in the mid-1970s with Monticello Raceway publicity icon John Manzi, and has continued ever since.
Back again this year, the banquet will be the chapter's 62nd annual event and is being held at the Wallkill Golf Club on Sunday, December 5, 2021.